Credit Corp withdraws from SACC Lending
Friday, 23 Oct 2015
Credit Corp Group (ASX:CCP) today announced its intention to withdraw from the Small Amount Credit Contract (SACC) consumer loan segment with effect from 1 March 2016. 
SACCs comprise less than 5% of the carrying value of Credit Corp's total consumer receivables. The Company reaffirmed its 2016 financial year guidance.
Credit Corp CEO Thomas Beregi said the company had resolved to exit SACC lending as a consequence of a decision by the Australian Securities and Investments Commission in March 2015 (ASIC Report 426) to apply the pejorative description 'payday loan' to all SACC products regardless of duration, affordability and pricing.
"We believe that Credit Corp's SACC products meet the objectives of Government to provide more affordable, longer duration loans. Our average SACC has a six-month term, and is offered with much lower fees than the current regulations permit.  We do not believe these are payday loans and yet that is how the definition is being applied. Our business has an excellent and valuable reputation and, after extensive consultation with our stakeholders, we have decided that we will not offer products which attract this description by the regulator. Accordingly, from March next year Credit Corp will withdraw from the SACC segment," Mr Beregi said.
---
2015 Annual Report
Thursday, 01 Oct 2015
The 2015 Annual Report was released to the market today. The report provides an overview of Credit Corp's businesses, its values and culture.
Credit Corp is Australia's largest provider of sustainable financial services in the credit-impaired consumer segment. In order to deliver value, Credit Corp must assume responsibility for contributing to the wider interests of the society within which it operates. Financial services have become a basic need in the modern market economy and Credit Corp plays an important role in working with a section of consumers who are suffering a degree of financial exclusion. Our objective in all interactions with our customers is to improve their situations and establish a pathway to mainstream financial inclusion.  This is encapsulated in the theme 'growth with community'.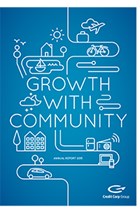 If you would like to receive a hard copy of the the report, please contact us by completing the investor enquiry form providing your request and mailing address. 
---